The garage facility at PE Blake and Son was traditionally for the service and repair of our own fleet of vehicles and trailers. Over the years word got round about our expertise and we started to service other peoples stock too. Then after becoming a VOSA testing station this continued to grow to the current day where we service a number of customer fleets plus ad hoc service, repairs and pre MOT checks.
THE PROBLEM
The increased workflow led to increased paperwork for both the mechanics and the administrators plus increased print costs for all the service pads. Paper-based service reporting also meant that the engineers struggled to return service
paperwork in a timely manner. It often took up to fifteen working days to have paperwork returned to the office. This meant that we also at least a week's delay on getting invoices out for services already delivered.
We needed to implement a smarter way of working that would allow information to be accurately sent and received the same day.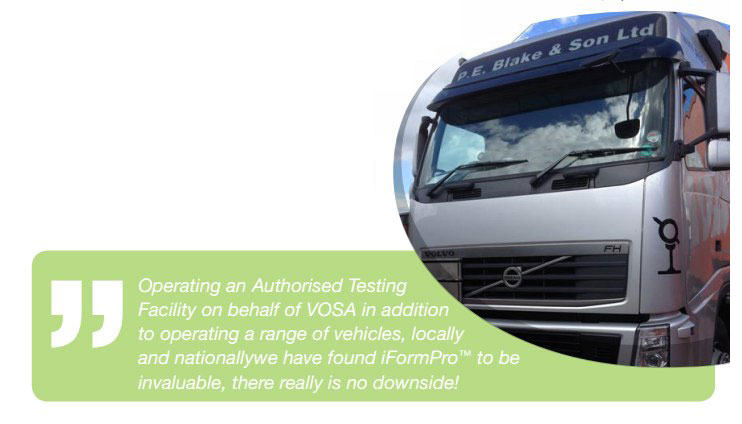 THE SOLUTION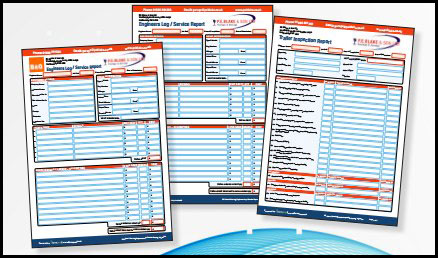 iForm ProTM from Footprint Solutions provided an instant, easily usable and paper-free method of meeting our real-time reporting requirements. Whilst the solution is iPadTM based, it is also simple to use and was met with only minimal resistance from our service engineers in adopting the solution. The Footprint Solutions team reviewed our existing form artwork and developed the iForm Pro forms in a matter of days. We couldn't believe how quickly the solution was developed and the delivered form designs looked superb and required very little end-users training. iForm ProTM delivers service forms from any site in just 15 seconds allowing both our office team and crucially one of our larger customers office team to understand exactly which services have been delivered and whether a job is complete. In the case of our customer this has allowed them to cut the off the road time to a bare minimum and plan transport and servicing more efficiently
This has allowed us to engage fully with our clients and deliver higher levels of service. Ad-hoc service requests are no longer an issue as the solution is able to capture engineer feedback (including photographs) of unplanned work that may be required. Since this information can be sent back to our office in real-time we can usually discuss the service requirement with the client and sign-off any repair works immediately.
"I have already referred several other companies into Footprint Solutions and I couldn't be happier with iForm Pro, invoicing the same day we finish a job has transformed the garage efficiency of our business".
Key to the rollout success was the solutions ability to capture hand written information and automatically process photos. "The solution is really simple to use, it's like using a magic sheet of paper. I still write my service form information down, it's just written onto a  tablet and not a mutlipart service pad form" commented Dave Devers a senior engineer. "The photo capture is really useful too. Photos are automatically inserted into the back of the form to provide supporting information to the office and the client. The fact that we can write notes onto photos was just the icing on the cake really."
SUMMARY
iForm ProTM was simple from the very beginning. A trial solution was set-up in days and the team transformed our service sheets incorporating both the PE Blake and key customer brands.
The trial was an immediate success and we knew that iForm ProTM was going to transform the way in which we did business. The solution is win-win really and allows the clients to receive a higher level of service.
For head office we achieve same-day invoicing for jobs (previously invoiced on day 8) and service sheets are delivered throughout  the day as jobs are completed rather than huge volumes hitting the admin team every once in a while.
We can also monitor job progress as we know exactly when an engineer has finished on-site as the form is delivered just before they leave. We have also removed all of the old administrative tasks that we used to have to do such as scanning service sheets and re-keying data into our sales system as the system provides PDF output as standard.
After just 3 months we couldn't imagine having to run our business without iForm ProTM. The cost of running iForm Pro is cheaper than the cost of running a paper- based reporting solution and the Footprint team were able to provide our iPads with no up-front investment. There really is no downside to adopting iForm ProTM.
THE BENEFITS
Removal of all paper-based forms and associated costs
Electronic forms returned from any site in just 15 seconds
Service levels dramatically improved through accurate communication
Closer progress monitoring and improved work prioritisation
Supports "on the job" photos and sketches / plan layouts which are returned with forms
Removal of all manual data entry activity and reduced errors
Removal of all postage / travel costs associated with the return of paper- based forms
Client sign-off of services using a hand written signature
Elimination of paper chase freed up contact centre staff enabling them to focus on service and team management activity
Phase 2 – Elimination of paper based 'work tickets' will further enhance productivity and service levelsPayback achieved in just 4 months